March 2022 Market Update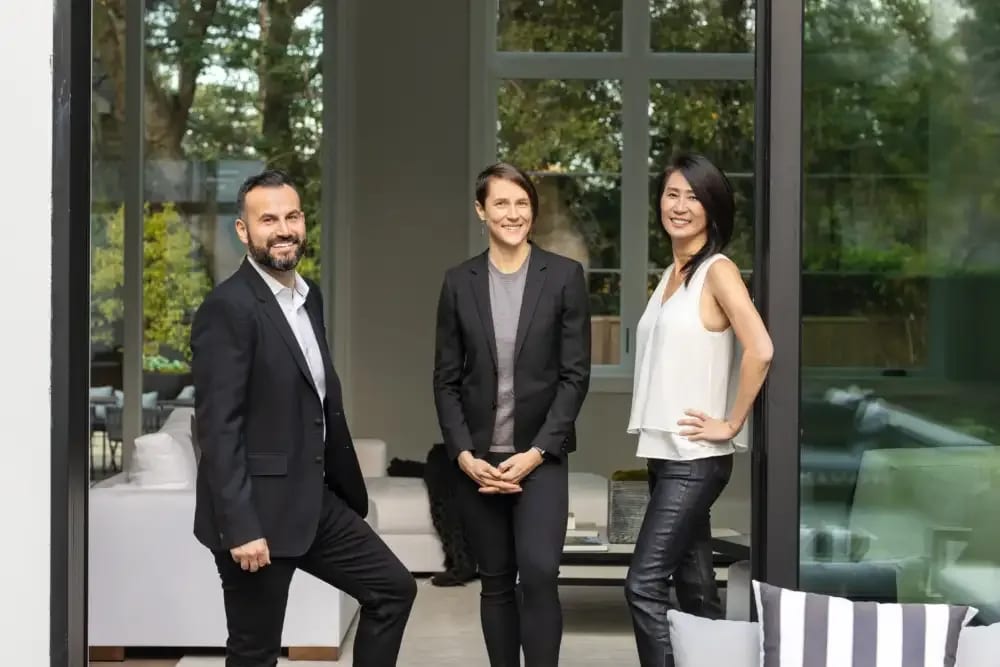 This month we get to look at some of our favorite data from different perspectives. If you follow along with our monthly updates, a limited supply of houses has been a dominant storyline for the last two years (really since coming out of the last recession). If you're looking at a house under $5m in Silicon Valley, all the current inventory would be sold through and replaced in less than a month (2 weeks if you're searching $1.5-2m!) 😳 That is ⚡️ fast.
We often look at sales volume in price point tranches, but this month we're looking at the housing inventory as vintages. Of all the houses sold in the last 12 months in Silicon Valley, 69% of San Mateo Co homes and 68% Santa Clara County homes were built in the 30 years post WWII. Only 9% SMC and 13% SCC homes were built between 1980-1999 (are they called millennial houses?) and an equal percentage break down for homes built since the beginning of this century.
Factors Affecting Bay Area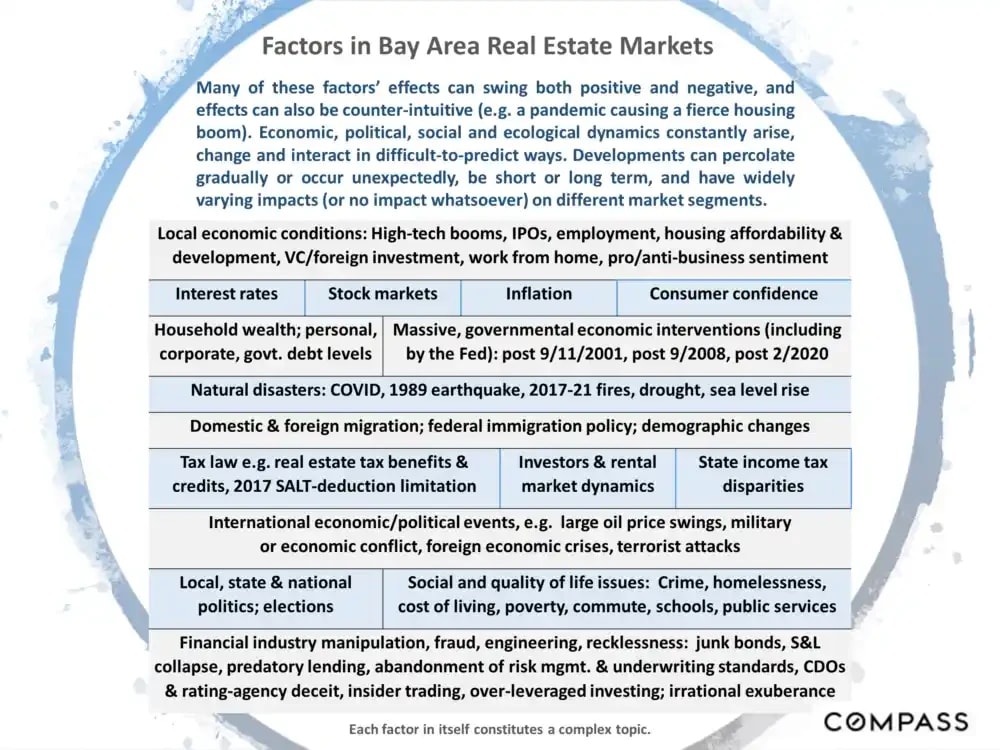 If any of us had crystal balls, we'd probably be using that power for more than making real estate predictions. But as agents we're constantly evaluating a number of macro-level factors impacting our different markets (I.e single family, condo, luxury estates, etc).
Here are the top 3 trends we're experiencing so far this spring:
Interest rates - while they've moved up from last year's lows, the slight rise has not cooled the market - yet.

Household wealth - there has been a tremendous amount of wealth created in the Bay Area over the last decade (especially in the last two years). Since many of those people are still working, we see them diversify by buying more real estate.

Stock Markets - many of the companies who experienced the biggest gains over the last 22 months have had a rough beginning to 2022 in the markets. Many of those companies employ buyers active in our current market. This surely affects buyers who have to liquidate to cover their down payment - we have seen some of those buyers step back. However, those who exited the market with concerns of volatility could be looking to diversify into a more stable asset.
Housing is an essential need ALL THE TIME - despite the unrest in the Ukraine, buyers are still competing for the limited inventory available, often paying significantly more than the list price. Q1 historically has the biggest jumps in quarterly appreciation - and that seems to be holding true so far in 2022.
Want to see more? Click to View
380 Cervantes Road | Portola Valley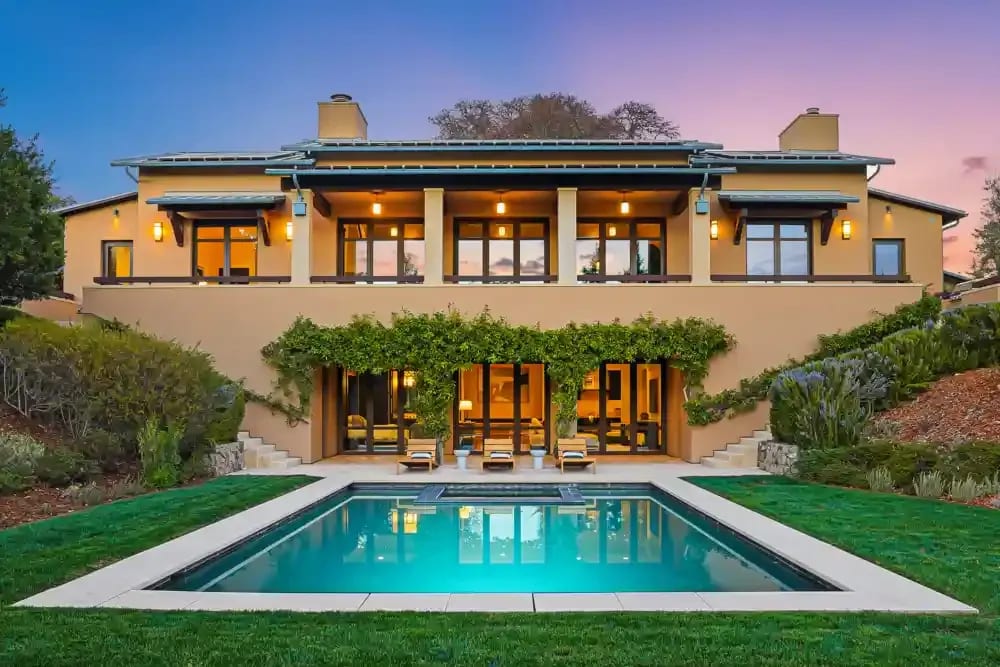 Perfectly sited amongst the rolling hills of Central Portola Valley, this timeless Tuscan inspired estate was custom built with exceptional attention to detail and material selection. Nearly 20 feet tall exposed beam ceilings crown the great room, which features an open concept living room, dining area, and Chef's kitchen with expansive island and LaCanche range. Beautifully patinaed Italian metal doors open to extend the living space outside, with sweeping loggia overlooking the pool on one side, and the central courtyard with majestic heritage Oak Tree on the other. The primary suite has direct access to a private rose garden and spa, and features a sumptuous bathroom with soaking tub. A family room, gym/flex space and third en-suite bedroom with an adjacent siting room/office occupy the lower level. Setback from the main property, the guest house offers a luxurious space for visitors or additional flexible living space with full kitchen and bathroom. A remarkable property!
128 Ada Ave No. 22 | Mountain View
Stylishly updated, light-filled townhome in super convenient Mountain View location! Featuring a double-height ceiling and easy indoor-outdoor living. With southeastern exposure and vaulted ceilings, the primary bedroom receives gentle sunlight throughout the day. Less than 1.5 miles to downtown Moutain View, Caltrain Station and easy access to Highway 101, this home is a must-see!
1981 Cordilleras Road | Redwood City
Just 7 minutes to Downtown Redwood City yet a world away, this nearly 100 year old home offers resplendent rustic charm and all of the modern conveniences including an updated kitchen with beautiful stained wood cabinetry and a detached garage with studio featuring a dramatic double height ceiling and many windows for abundant natural light. Nestled into the hillside and surrounded by stunning oak trees, 1981 Cordilleras Rd offers a quiet retreat from the hustle and bustle of life in Silicon Valley.
1072 Tehama Ave | Menlo Park
Completely updated single family home with timeless Craftsman design elements and high end details throughout including custom cabinetry, solid teak wood floors, and many skylights and windows for abundant natural light. The open concept floor plan makes gathering and entertaining a breeze while the sliding glass doors in the family room extend the living space outdoors. Super convenient Flood Park location is less than 10 minutes to downtown Menlo Park and Palo Alto, two Caltrain stations, and Facebook HQ, this
Let's Get Social!

Follow us on Instagram to stay up to date with our team, community, and more!