Happy May!
We have been watching the data to confirm or validate trends we have been experiencing. Since we know you want to optimize spending time with the moms in your life this weekend (and perhaps swinging by our open house at
1890 Cordilleras Road
), we'll summarize three takeaways from this month's data - from our spring and the Silicon Valley/Bay Area market on the whole:
The market is moving again
Adjusting to the "New Normal" - interest rates and banking/lending environment
Markets cycle - we'll know where we are when we get there!


The Market is Moving Again!
New inventory is finally appearing after the rain delayed many sellers' plans. April in San Mateo County saw 25% more new listings come to market than the previous month. That said, new listings are still down between 25-33% from May 2022.

Homes that are coming on the market are accepting offers sooner than we saw earlier this year. As a result, days on market have trended down to 26 days in San Mateo and 19 days in Santa Clara Counties in April. Of the 9 listings our team has launched, the average days on market (DOM) before accepting an offer is 8 days, well below the market trend.


Adjusting to the "New Normal"
Adjusting to the "New Normal" - Interest Rates and our current banking / lending environment - There's no doubt the changes to interest rates have affected our market over the last decade, especially since the pandemic. For years, the cost for buyers to borrow money was so low that it contributed to mega appreciation (combined with high Bay Area salaries, equities market gains, constrained inventory, etc). As mortgage rates more than doubled over the course of the last year, it slowed activity as buyers stepped to the sidelines to calibrate what they could afford. As we all know, life continues and people always need a place to live - owning a home still appears to be a preferred option, and it seems buyers have wrapped their heads around interest rates hovering around 6% (depending on conforming, jumbo, interest only, etc).

We all braced for bigger impacts from the SVB collapse and are saddened by First Republic's recent fall and acquisition by JP Morgan/Chase. First Republic financed many luxury homes in our market based on their understanding of more unique compensation structures, and while that might have created a problem on their balance sheet, we appreciated the service and certainty they offered on behalf of their clients. We expect other players to step in to fill that void. With the increase in rates, lenders are primarily handling purchase loans (very few refinances), so everything in the process including appraisals and underwriting, has been moving quickly.

Markets Cycle - We'll Know Where We Are When We Get There!
Whether you're training for an athletic race or raising tiny humans to be adults, you have to be aware of cycles. Rarely can anyone do the same thing day in and day out for years and see the same linear progression. After doing more mileage for a few weeks, you might need to reduce the next in order to rest and rebuild. Our schools take the summers off to give kids and teachers a chance to relax before taking on the next challenge. While each cycle phase might feel intense, it's always good to remember "it too shall pass." April/May 2022 was the peak of a decade plus run in home price appreciation in the Bay Area. Both Silicon Valley counties saw 123% appreciation from April 2013 until now. That appreciation during the pandemic alone was significant.
When you consider the change between last April and this April, it does feel jarring as both counties saw a 13% drop in median price, but it is always beneficial to consider that cycle in a historical context.

What is going to happen the rest of the year? Well, we don't quite know. What we do know is that we are getting calls from new buyers regularly who are excited to find the right home. We know that sellers are reaching out for guidance on the best way to transition from one phase of life to another. And we know that we delight in advising all our clients through this life-changing and stressful process, and we're committed to providing quality information and service to everyone we're fortunate to work with.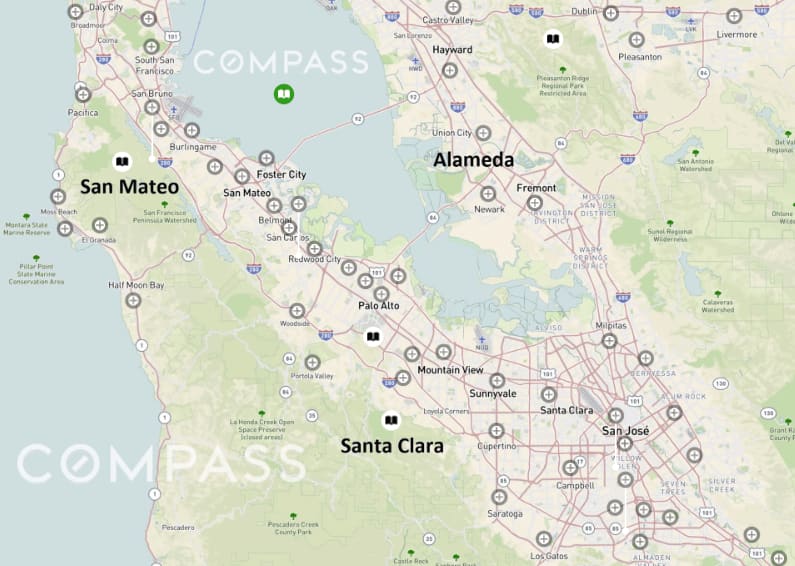 Want to See More? Click to View